PROMISE Products and Solutions

Storage. Networking. Accelerated.

When it comes to storage solutions, having the right product to fit your specific usage needs is paramount to success. Luckily, Promise has products ranging from easy to use consumer-based storage devices to battle-tested enterprise class solutions.
Featured PROMISE Products:



High-performance NVR storage appliances for IP video surveillance installations; can handle over one hundred full-HP IP cameras.

A secure cloud for your private circle to safely store and share photos and videos from your phone, tablet or laptop.

VSky - family of scalable, high-performance, hyperconverged infrastructure.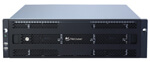 Simple, secure sharing from anywhere
with any device, intelligently syncing all of your files across all of your devices.