PROMISE Pegasus Series

Safe and Fast are No Longer Mutually Exclusive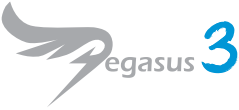 The world's first and fastest Thunderbolt 2 hardware RAID storage solution offers the creative enthusiast or professional portable RAID storage for rich media, post-production, or large file size graphics. It's perfect for offsite shoots, remote studios or small workgroups.
The PROMISE Pegasus3 Series with Thunderbolt 2 technology delivers blistering performance to professionals creating rich, ultra-high resolution media. Pegasus3 maximizes the available line rate of Thunderbolt 2, enabling video creators to transfer and display 4K video files simultaneously. Pegasus3, the world's first RAID 5 solution with Thunderbolt 2 technology, enables pros and enthusiasts to create, edit and view live 4K video streams, while simultaneously backing up the files to their Pegasus2 (or multiple daisy-chained Pegasus3 drives) while still being able to use the same cables and connectors as the previous generation.
Pegasus has become the benchmark by which all Thunderbolt storage is measured. Simplify and accelerate your workflow. Safely backup massive creative projects. Create, edit, view, and share brilliant 3D and 4K video.
Pegasus3 Series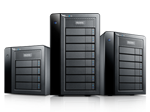 The Pegasus3 now includes powerful backup software powered by ChronoSync.
Pegasus3 users can now easily manage Rich Media projects from any computer on their network. The axle Starter software makes it radically simple to find, preview and share media files right on your network. You can access all your media content from any browser and no cloud is required. axle Starter also features a plug-in for Adobe Premiere Pro CC. Please visit Promise eStore to purchase axle Starter. Learn more
Pegasus32 Series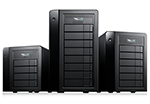 The Pegasus32 now includes powerful backup software powered by ChronoSync.
Get the most out of your Pegasus32 with ChronoSync Pegasus Edition software bundled with every Pegasus32. ChronoSync Pegasus Edition allows you to backup your data, clone your hard drive, sync files between two computers and store redundant backups in the cloud.
Same great features and performance as the Pegasus3 series.
Connect to either Thunderbolt™ 3 enabled host at 40Gbps or USB 3.2 Gen 2 enabled host at 10Gbps!
Thunderbolt™ 3/ USB cable included
Learn more