PROMISE VTrak D5000 1PB Bundle Promo

Special One Petabyte Unified Storage Solution Bundle
Special One Petabyte Unified Storage Solution Bundle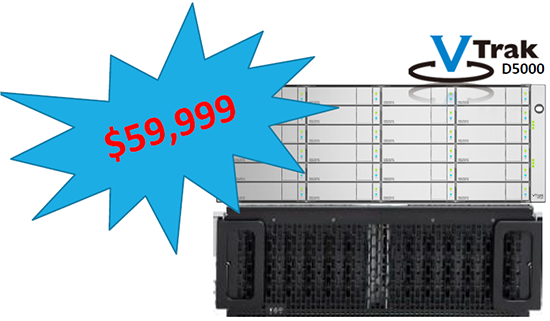 High-Availability SAN/NAS Controllers
10G Ethernet Support
Data Services Included
Storage Pooling
Snapshot
Thin-provisioning
Thin-Clone
SSD Cache/Acceleration
Includes 3-year 24x7 Support with NBD Parts

VTrak D5000 series unified storage systems deliver uncompromising scalability, flexibility, and affordability while providing simplicity and efficiency for minimizing total cost of ownership. High-availability design for the Enterprise data centers with redundant SAN/NAS controllers, multiple power supplies and hardware RAID protection while being supported and qualified with the most popular platforms in the industry.

PROMISE Products
PROMISE VTrak D5000 1PB Bundle Promo
VTrak D5800XD/J5920SD Dual 10G SFP+ Unified Storage Solution with 1PB Bundle
D5800XDACD (qty:1) + J5920SDQS8 (qty:1) + VRSFPN10G (qty:4)
#D5K1PBBUND
Our Price: $59,999.00
Contact us for better pricing!
Need help? Chat with an industry expert right now!
Please fill out the form below or call us at 844-356-5139.
Contact Us
Mailing Address:
PROMISEWorks.com
A division of Virtual Graffiti, Inc.
9979 Muirlands Blvd.
Irvine, CA 92618
Local: 949-328-2963
Toll Free: 844-356-5139
Fax: 949-266-9332
Our team is here to help you! We are available from 7am PST - 6pm PST and attempt to respond to all inquiries within 1 business day.
Please Note: Technical support is provided by the manufacturer. If you have a product support related questions, please contact the manufacturer directly.