PROMISE Vess R2000 Series

Unified Storage Solution for SMBs

Sorry, this product is no longer available, replaced by the Vess R3600xiS/R3600xiD.
Overview:

The Vess R2000 Series 3U 16-bay series are cutting-edge dual active-active high availability 8Gbps FC and 1 & 10Gbps IP SAN solutions that consolidate both block and file storage onto a single platform, providing small to medium businesses a cost-effective way to meet performance goals while simplifying administration.
Cost-effective high-availability NAS
Service interruptions can cripple a business. With the Vess R2000 Series, customers have a cost effective, dual controller, high-availability NAS-in-a-box, which ensures uninterrupted services. Conventional single controller based NAS solutions cannot always provide uninterrupted services. In order to achieve high-availability, those NAS solutions must deploy a high-availability cluster combining several devices, which is significantly more expensive.
Save space, costs and frustration
The Vess R2000 high-availability NAS cuts system configuration costs in half, cuts rack space by 50%, and greatly reduces management complexity compared to traditional single controller NAS solutions. Combined with the decreased risk of downtime and the hidden costs associated with bringing back single controller solutions for live use, the Vess R2000 Series is ideal for businesses trying to do more for less.
Unified storage for SMBs
The Vess R2000 Series is a unified storage solution that offers impressive performance while simplifying administration and adding flexibility. Choose to use an 8 Gb/s FC SAN for heavy I/O applications like video editing, high performance computing or scientific research. Use the 1 Gb/s &10 GB/s iSCSI SAN for less intensive I/O applications like data backup or remote replication. Or use NAS for video surveillance, virtualized environments or general file sharing applications.
Virtualization ready
Ready to confront any challenge in today's virtualized IT environment, the Vess R2000 is certified with VMware vSphere, Citrix XenServer, Microsoft Hyper-V and DataCore SANsymphony-V. Additionally, the Vess R2000 Series now supports VMWare VAAI, which reduces resource overhead on VMWare vSphere ESXi hosts. This significantly improves performance for storage-intensive operations like storage cloning, zeroing, and more.
Certified by Milestone for video surveillance
The Vess R2000 Series is tested and certified for Milestone XProtect® video management software. With documented performance results, best practice guidelines, and innovative solution architectures, integrators and end users can easily build a video surveillance solution with Vess and XProtect with complete confidence. Additionally, the Vess R2000 was verified to support up to four times the number of cameras as recommended by the Milestone calculator.
Simple to manage and use
Ease of use is absolutely crucial for SMBs with limited IT resources. The Vess R2000 Series is designed specifically with SMBs in mind, as it features One Plug Auto Service (OPAS) to reduce maintenance complexity and provide a streamlined tech support workflow. Simply plug in a USB drive and the user can retrieve information about the system for tech support, upgrade firmware, reset passwords and much more.
Features and Benefits: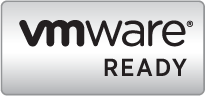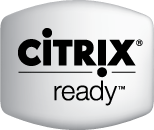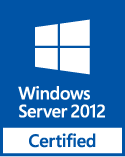 System Highlights
Fiber Channel 8Gbps, iSCSI 1Gbps & 10Gbps host connect ports
High availability dual controller design
Supports 6Gbps and 3Gbps SAS & SATA drives simultaneously
Scale up to 112 hard disk drives via VessJBOD expansion units
128 iSCSI concurrent sessions per controller
Supports IPv6
Predictive Data Migration (PDM) – sparing out to prevent rebuilds
PerfectRebuild - Rebuild with improved recovery efficiency
Physical drive cache backup providing comprehensive cache protection
PerfectFlash - Non-disruptive image update without system down time
Advanced battery flash backup - Provides protection beyond the normal 72 hour backup of the RAID cache
Support volume copy
Power button and power resume management
Mute alarm control
Compact and Lightweight enclosure design
Embedded I/O performance and power usage monitoring
Three hot-swap redundant power supply units with 80PLUS certified
OPAS and UPS Monitor via USB
Embedded web-based management via Ethernet – WebPAM PROe
MAID 2.0 support
Wake-on-LAN support (Vess R2000 Series)
Wake-on-SAS support (Vess J2000 Series)
Benefits
Dynamic solution optimized for video surveillance
Unified storage streamlines administration & adds flexibility
Designed to meed the growing challenge of unstructured data
Cutting edge redundant, high capacity archiving solution
Support for on demand expansion, ideal for cloud data centers
Fiber Channel 8Gbps, iSCI 1 Gbps & 10Gbps host connect ports
High availability dual controller design
Supports 6 Gbps & 3Gbps SAS & SATA drives simultaneously
Scale up to 112 hard disk drives via Vess J2000 series expansion units
Specifications: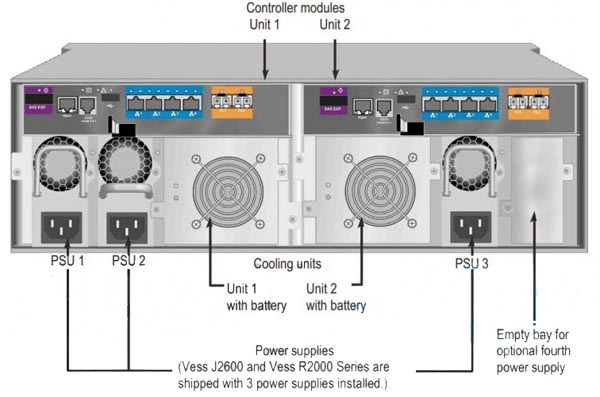 System Models
Vess R2600iS/R2600iD
Vess R2600fiS/R2600fiD
Vess R2600ciS/R2600ciD

Vess R2600xiS/R2600xiD

System and Controller Features
Form Factor
3U
3U
3U
3U
Drive Support
16 Drives (3.5")
SAS/SATA2 (6Gb/s or 3Gb/s), NCQ, TCQ
# of Controllers
Single/Dual (64bit 6-core @ 1.1GHz)
Host Connectivity per Ctrl.
4x 1Gb iSCSI
2x 8Gb FC
4x 1Gb iSCSI
2x 10Gb iSCSI
4x 1Gb iSCSI
2x 10Gb iSCSI (SFP+)7
4x 1Gb iSCSI
Scalability
Up to 112 drives via cascading Vess J2000 series
Data Cache
2GB standard per controller (max. 16GB)
NAS Features2
Supported Network Protocols
CIFS (MAC, Windows), NFS (Linux/Unix), AppleTalk (MAC), FTP, WebDAV
Data Services
Backup Server, Share Disk Clone, Remote Replication, Online Recovery, File Backup/Restore
Max. Share Disk
256
Share Disk Size/Memory
8TB/2GB, 16TB/4GB, 32TB/8GB, 100TB/16GB
Concurrent Sessions/Memory
64/2GB, 256/4GB, 512/8GB, 1024/16GB
Max. Account/Memory
1k/2GB, 2k/4GB, 5k/8GB, 10k/16GB
Supported Domain
Microsoft ADS, LDAP
Max. Domain Account
50k
Share Disk Supports
Permission Management, Quota Management, Online Expansion
Operational Features
RAID Levels
0, 1, 1E, 3, 5, 6, 10 (0+1), 30, 50, 60
Supported OS
Windows 2003, 2008/2008R2, 2012/2012R23
RedHat Linux, SuSE Linux, Ubuntu, CentOS, VMWare ESXi 5.x, Citrix XenServer, Apple OS X4
Data Protection Features

Predictive Data Migration (PDM)
Support Volume Copy
Zero Penalty Cache Mirroring
PerfectRebuild - Reduced Rebuild Time
Hard Disk Cache Protection4
Asymmetric LUN Unit Access (ALUA)
PerfectFlash -Non-Disruptive Image Update
Advanced Battery Flash backup

Green Features

Compact and Lightweight System Design
Efficient 80PLUS Certified Power Supplies
Embedded Power Consumption Module
Full Levels of Intelligent Power Management MAID 2.0
Energy Savings on Power Scheduling

System Information
AC Input
100 ~ 240 VAC, 60 ~ 50Hz
Current (Maximum)
4A (100V); 2A (240V)
Power Supply
Three redundant 250W (Up to Four)
90-264V full-ranging w/PFC, Hot swappable N+1 Design
FAN
Hot swappable redundant design with battery backup module
Temperature
5° ~ 40°C5 (-40° ~ 60°C non operational)
Relative Humidity
10% to 80% non-condensing
Dimensions (H x W x D)
131 x 447 x 507 mm
5.1 x 17.6 x 20 in
Weight
20.1 kg (44.3 lbs) w/o drives
31.3 kg (69 lbs) w/ drives
Warranty and Support
Warranty
3 years limited warranty6
Supported Hardware Options
Flash Module, 8Gb SFP Optical Transceiver, 10GBase SFP+ Optical Transceiver, SAS Cable, 3G SATA AA-Mux Adapter, 6G SATA BlackJack Adapter
110G iSCSI model available in Q3, 2013
2Additional AA-Mux adapter is required when use with SATA 3G drive, while SATA 6G drive requires BlackJack adapter
3Microsoft WHQL for Windows Server 2003, 2008 and 2012
4Feature available in the Service Release 3
5Operational Temperature between 5° ~ 35°C if BBU installed or use 15K-RPM SAS HDDs
6BBU is covered by one year limited warranty
78Gb SFP Optical Transceiver and 10Gb SFP+ Optical Transceiver are purchased separately
Views:

Front View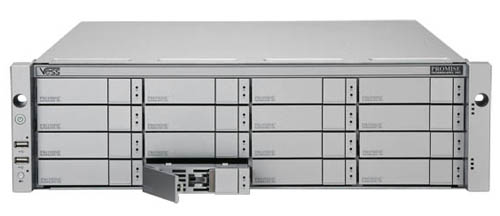 Drive Pull-Out View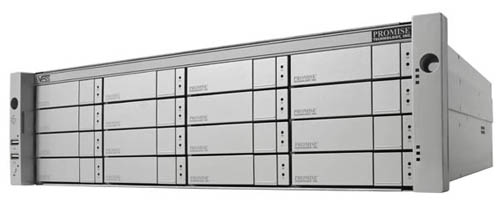 Left Angle View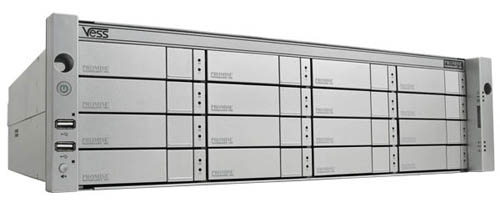 Right Angle View
Videos:
Pricing Notes:
Pricing and product availability subject to change without notice.