PROMISE VTrak A-Class A3600 Series

16 Bay All-in-one Metadata Appliance, RAID Storage Subsystem, and File System

This product is no longer available, please contact us for a replacement solution.
Overview:
The VTrak A-Class Shared SAN Filesystem Storage Appliances are the fastest and easiest to deploy as well as the most cost effective solution in the industry. Unlike expensive solutions that require complex multi-vendor interoperability and support, the VTrak A-Class provides a single-vendor solution that is as easy to setup, configure and manage as it is on the pocketbook.
Ideal for multi-user collaboration to ingest, edit, stream and process rich media. This is a true "solution in a box" RAID storage subsystem, with an integrated metadata appliance and embedded file system for big data, along with a NAS Gateway.
VTrak A-Class Appliance
All-in-one metadata appliance, RAID storage subsystem, and file system for Big Data.
Optimized for high performance, high bandwidth rich media applications requiring large block sequential IOPs.
Supports 2-4x more uncompressed HD streams than competing solutions without dropped frames.
VTrak A-Class enables a single management GUI for the SAN environment.
Scale out high capacity and high performance
The VTrak A3600 shared SAN appliance is ideal for multi-user collaboration, especially when it comes to rich media. The VTrakFS file system is integrated with metadata controllers and VTrak primary storage in a single box, which enables higher performance and workload productivity, while offering easier workflow management.
NAS Gateway for massive client access
The NAS Gateway enables hundreds of clients in the LAN network to access the highly scalable Fibre Channel SAN appliance via 10Gb Ethernet. While the NAS Gateway contains a file sharing protocol and file system management, the key benefit is the VTrak A3600 SAN can scale to petabytes while still appearing as a single NAS folder interface! This eliminates the need to reconfigure clients, unlike traditional NAS environments where costly, additional storage is required.
Simple and fast: a great combination
VTrak A-Class is optimized for high performance, high bandwidth, rich media applications requiring large block sequential IOPs. And because it's an "all-in-one" metadata appliance, RAID storage subsystem, and file system (VTrakFS), it's much less complicated that competing solutions.
Scalable, reliable and cost-efficient
With A-Class you can "pay as you grow" from 32TB to over 7PB for long-term storage investment protection. Additionally, VTrak x30 is the only Apple-qualified enterprise SAN subsystem, with high-availability dual controllers, hot-swappable modular disk array, and a 3 year warranty. The A-Class can save 30-40% on rack space, and help lower energy costs compared to non-integrated multi-vendor solutions.
Optimized for video-centric environments
The Promise VTrakFS file system is optimized for leveraging a 8Gb FC interface for large file data ingesting, streaming, or processing between a SAN and its clients – unlike traditional NAS file systems. Data is directly transferred between the SAN appliance and clients over the SAN FC network. This means higher bandwidth performance and lower latency data transfers, perfect for Media & Entertainment, HPC applications, and other video-centric environments.
Video storage needs are massive. VTrak is the solution!
Store massive amounts of data required by media-centric and HPC environments. Scale across multiple RAID storage subsystems, thus increasing capacity without sacrificing performance.
Supports 1024 RAID Logical Drives to make up the volume(s).
JBODs can be added to increase the storage space.
RAID heads can be added as Storage Nodes to dynamically increase the storage space as well as increase the number of FC counts, thereby scaling performance.
All this can be done online, without interrupting the clients.
Supersized file system for big data
VTrak A-Class virtualizes storage to create a single name space, shared storage volume.
Each VTrakFS consists of a Metadata LUN (MDL) and data LUNs (DL)
MDL contains information about file location, size, access times, etc.
The VTrak A Class head unit manages directing each client the correct file info over 1Gb Ethernet, but each client has full speed access to actual data via 8Gb Fibre Channel
Features and Benefits:
System Highlights
Entry level A-Class solution that does not sacrifice functionality
3U/ 16 drives in one chassis
8G FC interface
Data path over FC
Single name space with file system spanning across multiple storage units
High Availability

Active-Standby SAN FS metadata server
Active-Active RAID controller

Metadata Journaling

POSIX compliance
Client support for Windows, Mac and Linux
Multiple clients access shared files, best for sharing and collaboration
Optional external NAS extension gateway cluster provides legacy NFS and CIFS protocol access to files
Online defragmentation
Online expansion of data volume

Each File system volume can be individually tuned for the usage of the volume

Soft and hard quotas and user per missions
Local ACL for small user groups (20 users)
Integration with AD and LDAP for ACL
Client node ACL
Multipath support on clients
Provides intelligent fault detection and notification tool on clients
All in one
"Pay as you grow" from 32TB to over 7PB for long-term storage investment protection.
One hardware platform. "Scale up" by adding 9 JBODs. VTrakFS lets you "scale out" by adding additional VTrak x30 storage nodes (one node = 1 VTrak x30 RAID head + 9 VTrak x30 JBODs) – increasing both capacity and performance via auto-load balancing and providing a single global namespace as capacities continue to grow.
One management GUI. VTrak A-Class with NAS Gateway allows for easier management of all the components of the hardware platform and the VTrakFS file system.
One firmware to update.
One cost-effective price.
One place of support.
Benefits
Fast - Optimized for high performance, high bandwidth rich media applications and unstructured data requiring large block random or sequential throughput.
Simple - "All-in-one" metadata appliance, RAID storage subsystem, and file system (VTrakFS).
Scalable - "Pay as you grow" from 32TB to over 7PB for long-term storage investment protection.
Reliable - Features the same hardware, software, and firmware platform as the Apple-qualified VTrak x30 Series subsystem, with high-availability dual controllers, hot-swappable modular design, and included 3-Year onsite parts replacement warranty.
Cost-Efficient - 30-40% rack space and energy savings compared to non-integrated, multi-vendor solutions.
Deployment:
End to End Rich Media Solution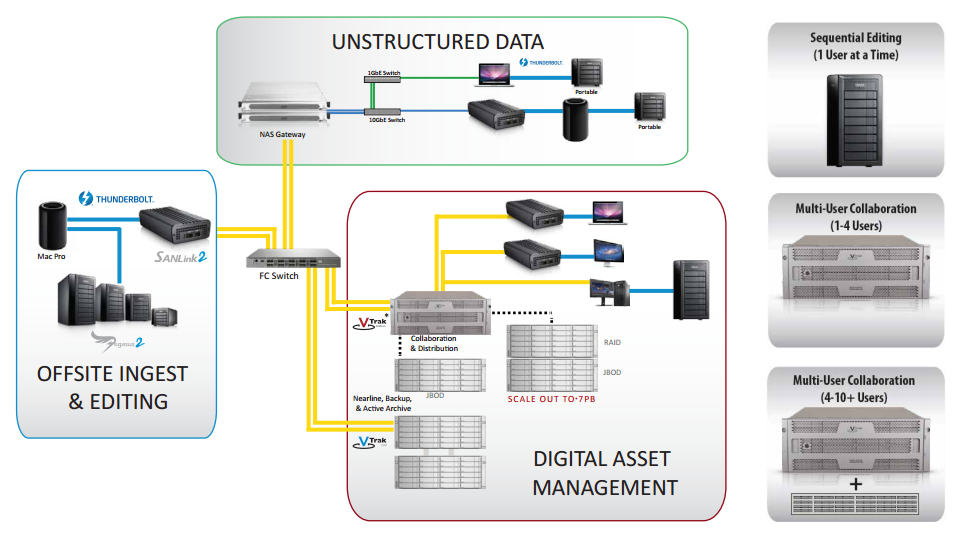 Specifications:
VTrak A-Class A3600 3U/16 Bay Specifications
Form Factor
3U
Capacity

32TB to 7PB raw
Non-disruptive expansion using:

VTrak x30 Fibre Channel RAID Storage Systems
VTrak x30 Expansion ChassisSingle Controller

VTrakFS File System

VTrakFS – Integrated clustered file system 
Supports up to 8 simultaneous file systems per system 
Serve up to 1 billion files 
Directory Support: LDAP, Active Directory, Open Directory 
Advanced online defragmentation tool (Advanced Anti-Fragmentation Algorithm) 
Supports ACLs (Access Control List) and User Quota

Availability
Redundant Controllers Hot-Swappable Power Supply Units
Interface
Quad 8G Fibre Channel ports per controller (total of 8 ports for high-availability systems)
RAID Support
RAID 0, 1, 5, 6, 10, 50, 60
Power Eciency
Four levels of advanced power management disk drive
Management Tools/Interface
Single VTrak A-Class SAN management software
Client Licenses
4 Universal Only included. Supports hundreds of clients.
Warranty
Three year complete system limited warranty (Two-year extended warranty optional)
Support
24 x 7 web and phone support
Views:


Front View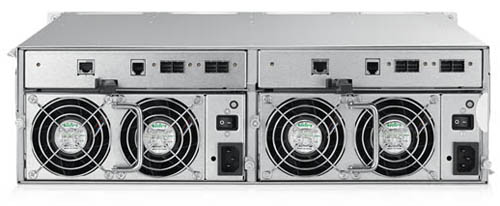 Rear View


Left Angle View


Right Angle View
Videos:
Pricing Notes:
Pricing and product availability subject to change without notice.