PROMISE SANLink2 16G FC

Dual 16 Gb Fibre Channel Thunderbolt 2 Bridge Adapter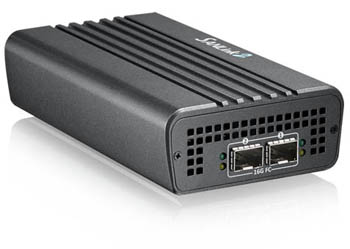 Sorry, this product is no longer available, Please contact us for a replacement.
Overview:

The SANLink2 Series with Thunderbolt 2 technology revolutionizes how creative professionals connect from a Thunderbolt 2 device to a Fibre Channel SAN or directly to Ethernet, and is built to maximize the available line rate of Thunderbolt 2.
Access to low-latency, high-bandwidth storage reduces file load times, allows for instantaneous response time during timeline scrubbing, and reduces the amount of time required for large media file transfers.
A complete out-of-the-box solution, simply plug in your SANLink2 with a power adapter into a Thunderbolt port.
The world's first Thunderbolt 2 Fibre Channel/Ethernet bridge
The SANLink2 is a compact device that allows a Thunderbolt 2 host computer to directly connect to a Fibre Channel SAN, doubling the speed of the previous generation 8G FC.
Incredibly fast connectivity
SANLink2 10GBase-T connects devices to the local network to access shared media, and SANLink2 10G SFP+ connects devices to the network via optical for remote branches and offices at distances greater than 100 meters. All at blazing speeds.
Offload video capture to a Mac Pro or Windows workstation with SANLink2
Downloading footage from today's data-hungry cameras is one of the major challenges facing production companies these days. Take for example the Phantom Flex 4K camera. It transfers data to a Phantom 10 Gb/s CineStation effortlessly, so that it can continue in an on-set shoot.The CineStation can be connected directly at 10 Gb Ethernet speeds to a MacBook Pro with SANLink2 10GBase-T (copper) or 10G SFP+ (optical). At the same time, this MacBook Pro can have a Pegasus2 M4 SSD attached via a SANLink2 16G FC for the fastest data transfer of over 1300 MB/s - for editing off multi-cameras capturing different points of view. The SANLink2 16G FC can connect this remote set up to a VTrak A-Class for collaborative editing.Similarly, SANLink2 10GBase-T might be selected if cabling for an immediate datacenter is within 30 - 100 meters. For companies that require cabling to reach beyond 100 meters, the SANLink2 10G SFP+ is the ideal choice.
Streamline the creative process
Real-time editing of multimedia files in their native, uncompressed formats has persisted as a challenge for creative professionals. Fortunately, with SANLink2, costly rendering time (due to proxy editing) is eliminated. Gain access to low-latency, high-bandwidth storage through reduced file loading periods. Instantaneous response times during timeline scrubbing and faster media file transfers will become your new standard!
Master the 4K workflow
At the moment high-speed transfer capabilities are placed into the workplace, systems evolve. With SANLink2, all storage bottlenecks for desktop and portable computing systems are immediately alleviated through the introduction of Fibre Channel or 10 Gb Ethernet connectivity into the work process. 4K (Ultra HD) environments consisting of bandwidth-hogging post-production and broadcasting operations now become seamless workflows, where downtime simply ceases to exist.
Features:
System Highlights
Dual Thunderbolt 2 ports and dual 16 Gb FC ports
Supports high data transfers ideal for creative professionals
Enables portable and desktop systems with Thunderbolt interfaces to directly connect to the FC SAN at 16 Gb speeds
Supports PROMISE VTrak Series and OS X
Supports OS X while maintaining a quiet and small environmental footprint
Quiet, cool, and small environmental footprint
Thunderbolt cable included
Benefits
Streamline workflows for creative professionals
Remove storage bottlenecks for portable and desktop systems that were once unable to connect directly to a Fibre Channel SAN
Edit files in real time in native uncompressed formats
Deployment:
SANLink2 16G for SAN (Storage Area Network)
SANLink2 provides dual 16 Gb Fibre Channel ports that can be used to connect directly to an external Fibre Channel storage device or to a storage area network using a high-speed Thunderbolt 2 I/O device.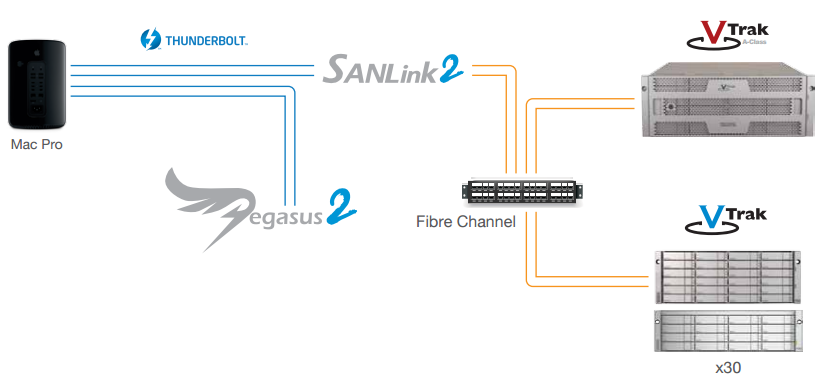 Connect a Mac Pro directly to 16 Gb Fibre Channel.
Dual Thunderbolt 2 I/O ports enable SANLink2 to daisy-chain up to a total of six Thunderbolt devices including products such as PROMISE Pegasus2 Series Thunderbolt 2 RAID storage systems, Apple Thunderbolt displays, and Mini DisplayPort devices.

SANLink2 for LAN (Local Area Network)
SANLink2 10 Gb ports can be used to connect Thunderbolt 2 enabled Mac Pro, MacBook Pro, MacBook, or iMac directly to 10 Gb Ethernet network using a high-speed Thunderbolt 2 I/O port.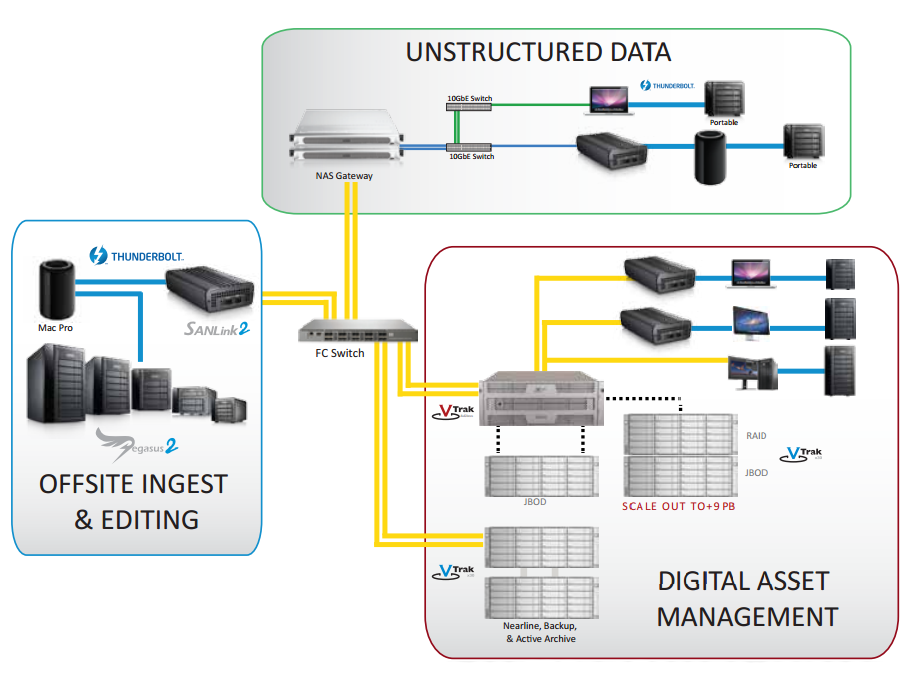 Specifications:
SANLink2 16G FC
SANLink2 8G FC
SANLink2 10GBase-T
SANLink2 10G SFP+
External Ports
Dual 16 Gb FC Ports
Dual 8 Gb FC Ports
Dual 10Gb Base-T Ethernet Ports
Dual 10Gb SFP+ Ethernet Ports
Thunderbolt Ports
Dual Thunderbolt 2 technology ports (20Gbps)
Transfer Rates
1600 MB/s at 16 Gb
800 MB/s at 8 Gb
400 MB/s at 4 Gb
200 MB/s at 2 Gb
800 MB/s at 8 Gb
400 MB/s at 4 Gb
200 MB/s at 2 Gb
1 GB/s at 10 Gb
100 MB/s at 1 Gb
10 MB/s at 100 Mb
1 GB/s at 10 Gb
100 MB/s at 1 Gb
Host Bus Type
Dual 20 Gbps Thunderbolt ports

Dual Protocol (PCIe and DisplayPort)
Daisy-chained device support

Protocols
SCSI-FCP
FCP2
SCSI-FCP
FCP2
IEEE 802.3an 10 Gb Base-T
IEEE 802.3ab 1000 Base-T Gb
IEEE 802.3u 100 Base-TX
IEEE 802.3ak 10 Gb Copper
Twin Axial
IEEE 802.3ae 10 Gb Optical
SFF-8431 rev 4.1 10 G SFP+
Warranty
3-year warranty
OS Support
OS X 10.8.5, 10.9 (Mavericks) or later, Windows (10G Base-T and 10G SFP+)
Support
24/7 e-mail and phone support (English-only)
24/7 access to PROMISE support site: drivers, firmware, and compatibility lists
Dimensions
1.8" (H) x 6.4" (W) x 3.6" (D)
Weight
1.32 lb.
Videos:
Pricing Notes:
Pricing and product availability subject to change without notice.