PROMISE Pegasus2 M4 (2.5" Drives) with Thunderbolt 2 Technology

The World's First & Fastest Storage Solution for Creative Professionals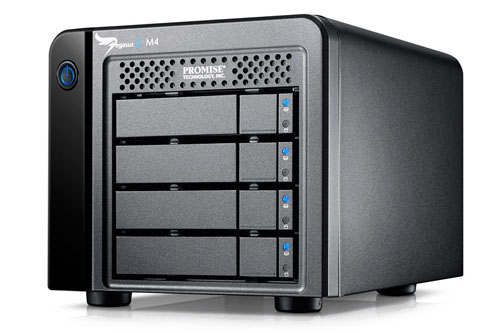 This product is no longer available, please contact us for a replacement solution.
Overview:
The Pegasus2 M4 is a mini 4-bay RAID storage solution featuring 2.5" drives that is designed for users who require a portable solution for external storage for their Mac Pro, MacBook Pro, and Windows Thunderbolt 2 computers.
The PROMISE Pegasus2 Series with Thunderbolt 2 technology delivers blistering performance to professionals creating rich, ultra-high resolution media. Pegasus2 maximizes the available line rate of Thunderbolt 2, enabling video creators to transfer and display 4K video files simultaneously. Pegasus2, the world's first RAID 5 solution with Thunderbolt 2 technology, enables pros and enthusiasts to create, edit and view live 4K video streams, while simultaneously backing up the files to their Pegasus2 (or multiple daisy-chained Pegasus2 drives) while still being able to use the same cables and connectors as the previous generation.
Pegasus has become the benchmark by which all Thunderbolt storage is measured. Simplify and accelerate your workflow. Safely backup massive creative projects. Create, edit, view, and share brilliant 3D and 4K video.
The Absolute Fastest
The Pegasus2 is the fastest and the only Thunderbolt 2 enabled hardware RAID storage available in the market. Showcasing Intel's revolutionary Thunderbolt 2 connectivity, the Pegasus2 boasts a staggering speed of 20Gb/s - more than enough to effortlessly handle and accelerate any 3D or 4K (Ultra-HD) workflow environment.
Windows compatible
Pegasus works with Window environments, too. For example, you could build an amazing system with Promise Windows compatible Thunderbolt 2 solutions and HP Z Workstations for exceptionally fast connectivity, enabling users to push the limits of their creativity.
Perfect Partner for the Mac Pro
Synergize the ultimate innovation of the new Mac Pro and Thunderbolt 2 with the capacity and performance of the industry's fastest storage solution, Pegasus2. Multiply the Mac Pro's flash storage capacity by daisy-chaining multiple Pegasus2 systems to achieve massive amounts of additional storage space.


Daisy-chain up to 6 Pegasus2 enclosure units or Thunderbolt peripherals for 6x the RAID 5/6 bandwidth
Helps You Master the 4K Environment
Experience the ability to seamlessly edit and stream 4K (Ultra HD) content, while backing up those files at the very same time. Boasting the world's fastest connectivity speed at 20 Gbps, Thunderbolt™ 2 doubles the speed of the previous generation and perfectly supports bandwidth-hogging 4K workflow environments allowing you to never have to experience downtime with your digital creations.
Unleashes your Creativity
Being away from the studio for a shoot doesn't mean you have to sacrifice the RAID protection and speeds of your SAN storage. Pegasus2 pairs together Thunderbolt 2 connectivity and enterprise-level hardware RAID protection in a compact, portable package that you can take with you almost anywhere. This makes it ideal for photographers, filmmakers, graphic designers, and other multimedia professionals.
Features and Benefits:
System Highlights and Benefits
Simplify and accelerate your workflow.
Create, edit, view, and share brilliant 3D and 4K video.
Seamlessly transfer terabytes of data in minutes rather than hours.
Safely backup massive creative projects.
Supports maximum throughput allowed by Thunderbolt 2 interface.
Expand storage capacity and backup for new Mac Pro or Windows workstations.
Supports simultaneous streaming, editing, and backup of 4K video.
Dual Thunderbolt ports for daisy-chaining.
Hot-swappable drive bays for effortless drive access and serviceability.
Portable hardware RAID protection for offsite shoots.
Massive storage capacity for backing up creative projects and digital libraries.
Essential to PROMISE's end-to-end 4K workflow environment.
Thunderbolt cable included, backwards compatible with 10Gbps Thunderbolt hosts and devices.
Deployment: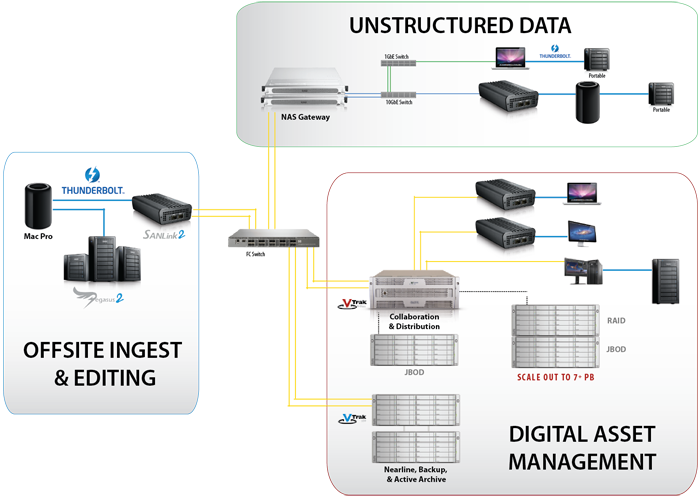 Rich Media 4K Workflow
PROMISE offers a complete shared storage solution featuring Thunderbolt™ 2 for 4K environments through Pegasus2, SANLink2, and VTrak A-Class.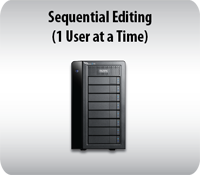 Pegasus2 offers creative enthusiasts and professionals portable RAID storage for post-production and broadcasting, such as offsite shoots, remote studios, or department workgroups.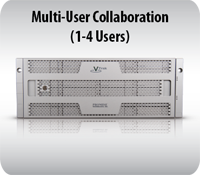 SANLink2 Thunderbolt 2-to-Fibre Channel/Ethernet bridge provides high-speed connectivity directly to a fibre channel SAN or Ethernet for 4K applications.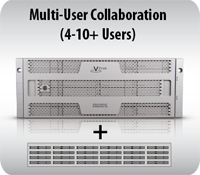 VTrak A3800 shared storage appliance is for simultaneous, collaborative multi-user 4K editing, for higher performance bandwidth.
Specifications:
Models
Pegasus2 R2+
Pegasus2 M4
Pegasus2 R4
Pegasus2 R6
Pegasus2 R8
Form Factor
2-Bay hardware RAID Media Bay (SSD, HDD, CF/SD reader) enclosure
4-Bay (2.5" drives) hardware RAID enclosure
4-Bay (3.5" drives) hardware RAID Enclosure
6-Bay (3.5" drives) hardware RAID Enclosure
8-Bay (3.5" drives) hardware RAID Enclosure
RAID Level
0, 1
0, 1, 5, 6, 10, JBOD
0, 1, 5, 6, 10, JBOD
0, 1, 5, 6, 10, 50, JBOD
0, 1, 5, 6, 10, 50, 60, JBOD
Capacity
6TB (2x3TB)
4TB (4 x 1TB)
8TB (4x2TB)
12TB (4x3TB)
12TB (6x2TB)
18TB (6x3TB)
24TB (6x4TB)
24TB (8x3TB)
32TB (8x4TB)
48TB (8x6TB)
Thunderbolt Technology Ports
2x Thunderbolt 2 ports (20 Gbps) 
1x USB 3.0 Type-B port (5GBps)*
2x Thunderbolt technology ports at 20Gb/s (2.5GB/s)
Dimensions
Height : 5.3 in / 13.48 cm
Width : 7.3 in / 18.5 cm
Length : 9.8 in / 24.95 cm
Height: 4.2 in / 10.7 cm
Width: 5.0 in / 12.7 cm
Length: 6.6 in / 16.7 cm
Height: 7.5 in / 19.2 cm
Width: 7.3 in / 18.7 cm
Length: 9.6 in / 24.5 cm
Height: 9.8 in / 25.1 cm
Width: 7.3 in / 18.7 cm
Length: 9.6 in / 24.5 cm
Height: 12.2 in / 31.0 cm
Width:7.3 in / 18.7 cm 
Length: 9.6 in / 24.5 cm
Weight
13.41 lb / 6.1 kg
5.5 lb / 2.9 kg
15 lb / 6.8 kg
20.1 lb / 9.1 kg
24.2 lb / 11 kg
Operating System
OS X 10.8.5 or higher, Windows**
Warranty
2-year warranty
* Available in the US only. Ships formatted as RAID0 for maximum speed for both read and write - not a tolerance against disk failure
**Comes pre-formatted HFS+.
Videos:
Pricing Notes:
Pricing and product availability subject to change without notice.